Goshen Managed Service Provider
Are You Searching Online For An IT Support Firm In Goshen Because Your Company's Network Is Running Slow And Causing Problems But You Don't Know Who You Can Trust To Fix It Fast?
If so, give us a call and let us show you what fast, friendly and highly responsive outsourced IT services should be for your small to medium business: 574-385-9996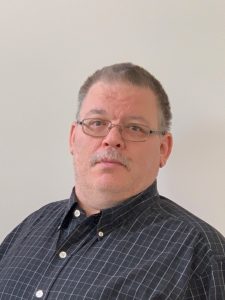 Call Us Today At 574-385-9996
Managed IT Services
Managed IT Services can help businesses of all sizes improve their IT performance, reduce costs, and mitigate risks.
Cybersecurity
Cybersecurity is the practice of protecting computer systems, networks, and data from unauthorized access, use, disclosure, disruption, modification, or destruction.
Backup & Recovery
A comprehensive backup and recovery plan is essential for ensuring the availability and integrity of critical data.
VoIP Phone System
A VoIP phone system is a cost-effective and scalable solution that can help businesses of all sizes improve their communication and collaboration capabilities.
SEO Services
Our SEO services can help you improve your website's visibility in search engines, attract more visitors, and boost your business's bottom line.
Goshen's One Stop Shop For All Your Technology Needs
3 Big Reasons Why Businesses in Goshen Outsource their Technology
Educator Mindset

focusing on the needs of the client and providing them with the best possible experience.

Predictable Costs

 

help businesses achieve predictable IT costs by providing a fixed monthly fee for all IT support services.

30 Years IT Technology experience

has given me the skills and knowledge necessary to provide you with the best possible IT support.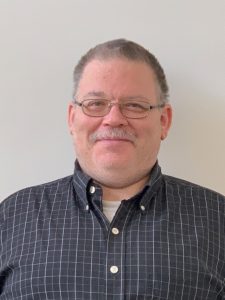 Not Ready To Call Us Just Yet?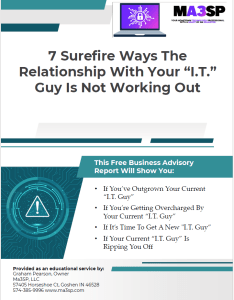 Are you concerned that your current technology provider is not meeting your needs? In this FREE report, you will learn the 7 surefire ways to tell if your relationship with your technology provider is not working out in your best interest.
Download This Report Instantly!
Read What Your Customers Are Saying
Graham always willing to help and share his vast knowledge. I highly recommend him. Every time I have a need no matter big or small Graham takes the time to help and if needed research the issue, I have known and used Graham for nearly 30 years, he is honest and truly cares about what he does for his clients
Brad S
I am very thankful for Graham, and Ma3SP, and his willingness to help solve our IT issues. Graham also is focused on making sure we are utilizing our system fully and seeing where we can consolidate our systems to save money, time, and resources.
Nate J
I am writing to express my sincere gratitude to Graham and his company for their invaluable contributions to my business. Graham's background as an educator has given me a deep understanding of the industry, and his technical knowledge and willingness to stay on top of the latest trends have enabled us to reach new financial heights.
Randal H
We're Proud To
Partner

With

The Best Businesses

In The Industry